Welcome to York Golf Union
The York Union of Golf Clubs exists to further the best interests of golf at a local level and to provide a common interest amongst the 13 clubs which are in the Union.
The Union arranges a series of competitions during the year, providing local golfers (male, female and juniors) the opportunity to compete individually or in pairs at all levels.
We also participate in the Yorkshire Inter District Union at both senior and junior level. We are one of the smaller Unions in terms of member clubs but the playing standards highlight that good things come in little packages!!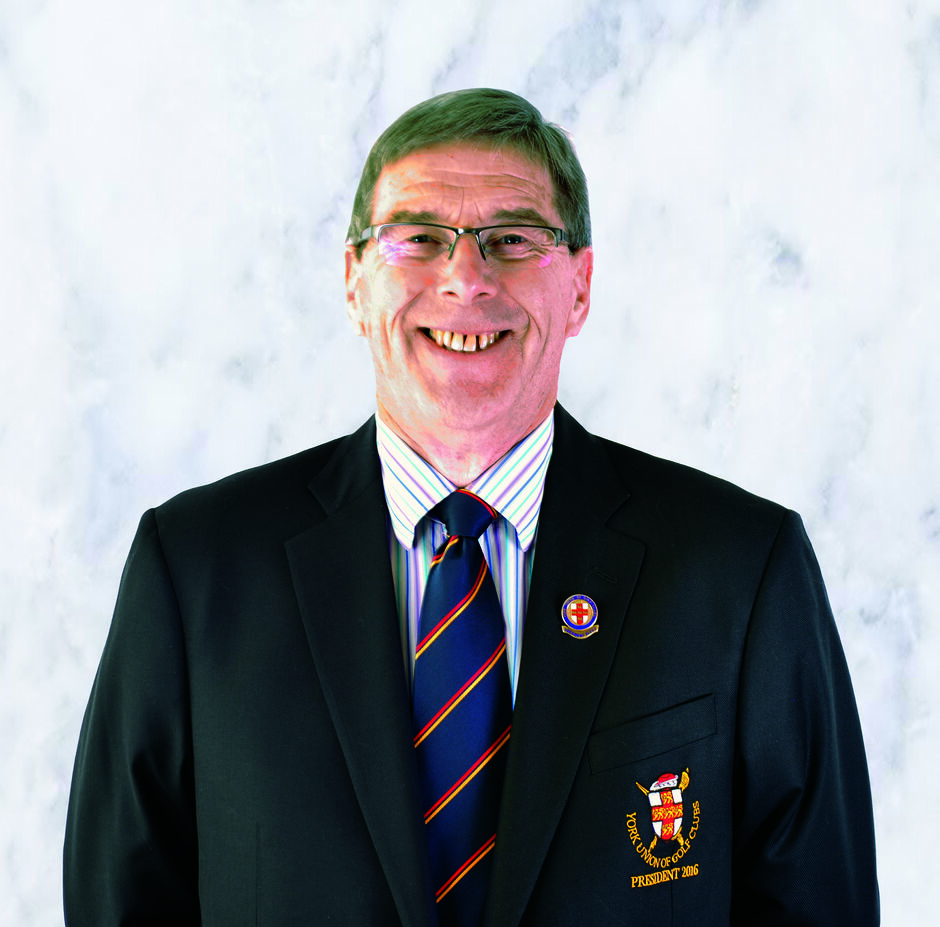 ​
Presidents Message:
Dear Member
Happy New Year and best wishes for this year's golfing season.
You may be aware that Gary Pearce our Secretary steps down at this year's AGM and may I take this opportunity to publicly thank Gary for the work he has done over the last few years.
It has been very much appreciated. We have a volunteer replacement - Tina Readman, I hope she will receive your support to be voted in as Secretary at our AGM on the 28th March.
In the meantime she is working alongside Gary to make sure the hand over process will be smooth.
Just before Christmas we received the sad news that Paul Yates, a member of the Executive for many years, passed away on the 23rd December 2016.
Paul was a great supporter of the Union and of Yorkshire and he will be sorely missed. A letter of condolences has been sent to Paul's family.
A big thank you to all the clubs who have made their courses available for our competitions this year.
The weather at the end of the season was very kind with all of the Cross Trophy competitions completed.
I also thank The Oaks and York Golf Club for their cooperation in rearranging and hosting the Fletcher and the Crossley Trophies which were successfully run in October.
At this point I would like to thank Paul Jordan-Worrall very much for his continued support and work in bringing our competitions together.
On Sunday the 19th March seven Unions will fight for the Reprotech Trophy at Malton and Norton Golf Club.
This follows on from last year's very successful first mixed match against Harrogate Union. Congratulations to Sian Statters for bringing seven of the eight unions together.
I thank the executive members of the Union for their support this year.
My best wishes to Martin Greaves and the senior team and to Sian and the Junior team this year.

And finally, my best wishes to our incoming President Andy Holmes who I hope will have a very enjoyable 2017.
Neil Bellamy President 2016
---
Read the latest York Union Newsletter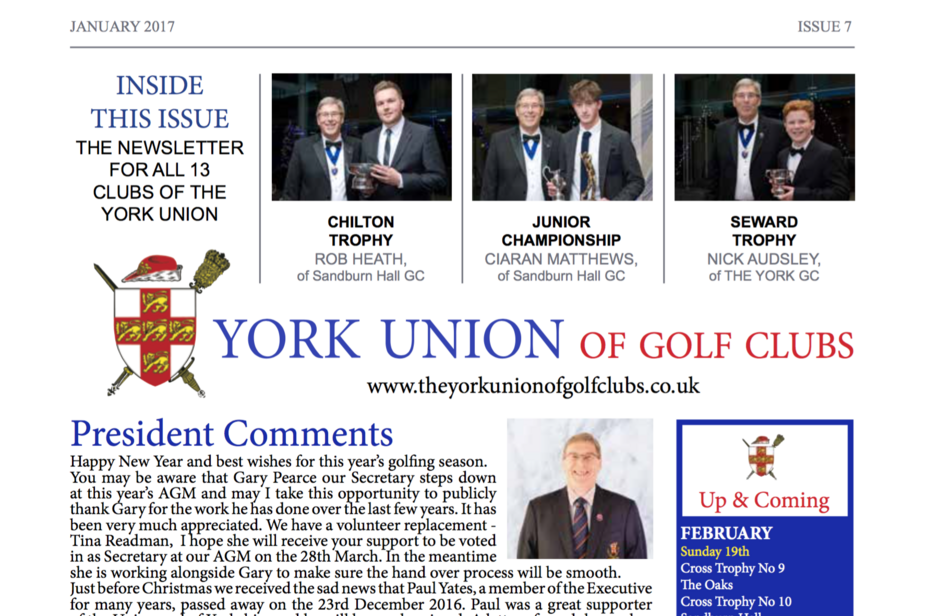 ​
Click on the image to view
You can view previous editions of the YUGC newsletters from the News menu.
---


​​​
Latest
news
Course Status
Fulford G C: Due to wet and soft conditions, Trolley restrictions will be in force for Cross Trophy 13. See start list for details
See the Rules School Page for the latest rules incidents
Pike Hills and Heworth share Cross Trophy
24th March 2017
First tie in the series since 1966 sees joint winners
Read More...
Course Status
Course Status
Fulford G C: Due to wet and soft conditions, Trolley restrictions will be in force for Cross Trophy 13. See start list for details
Keep up to Date
If you would like to be kept up to date with events for which you enter, including start times or cancellations please send your name, club, handicap and CDH number if known, with your e-mail address to
Live
Scoring
Active competitions with LIVE scoring will be shown here.

Our Sponsors
We are delighted that our loyal sponsors are generously supporting junior golf in the York area and are pleased to
promote them through York Union.