Summer Events Cancelled
Friday 15th May 2020
All YU Summer Events are from today cancelled. We hope to resume with the YU fixtures with the Cross Trophies 1 & 2 on Sunday 4th October.
Read More...
Can I be penalised if another player plays my ball by mistake?
Wednesday 19th February 2020
I am sure that at one time or another, your ball has been played by mistake by another player, but do you think you would ever be penalised for it? See the latest entry under the Rules School tab.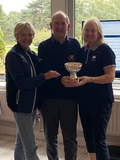 2020 Calendar of Events is now confirmed !
Thursday 30th January 2020
Your Clubs now have the Calendars for this year posted on your notice board. Further details to follow through out the year.
Read More...
CONTACT : Competition Secretary compsec@theyorkunionofgolfclubs.co.uk